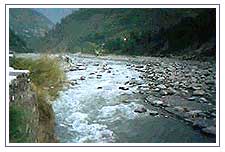 To the north west of India runs the river Indus. While today most of the Indus does not flow within India, five tributaries of the Indus drain the Indian land. Where all five of them run, that area has come to be known as Punjab or the area of five rivers. The five rivers are Sutlej, Beas, Ravi, Jhelum and Chenab. These rivers in turn have their tributaries and because of them the northern part of Indian soil is very fertile.
Each of the five rivers has a mythological reason for its being. Interestingly most of them have something or other to do with the enmity between two great sages: Vashishta and Vishwamitra. Although both the seers were equally well versed in the sacred texts, they often crossed swords due to the impetuousness of Vishwamitra.

Legend Of River Iravati Or Ravi
The story goes that there was once a king named Sudasa. For many long years the sage in his court was Vishwamitra and then Vashishta. When Vashishta was performing all the prayers for the king, a war broke out and king Sudasa found he had to fight many kings at the same time. Although king Sudasa was brave, his enemies were brutal. They decided to dig the course of the river along a route that would harm him and make it difficult for him to fight. That is how they dug the route of river Iravati. Vishwamitra was watching with glee. But the King of Kings, Indra was also watching. He willed just the other way round and the righteous king Sudasa won because his enemies were drowned in river Iravati. The same river that was to create a hurdle in king Sudasa's life, became his saviour. .
River Iravati is now Ravi, a major river of Punjab running a full 450 miles from its source in the mountains of Bungall, in Rohtang Pass. River Ravi is hydrates of Arrean, Adris of Ptolemy, Hyarotes of Strabo and Phaudis of Pliny. In Vedic literature, it has also been called "Purushini" or "Parushini".
Other Legends Connected To River Ravi
During its early stages, Ravi was also called "Raina". After it passes by the city of Champa in Himachal Pradesh it acquire the name Ravi. The waters of Ravi are redder than the adjoining rivers, and it is believed that the deposits made by the river are very fertile. Ravi moves in a tortuous channel, and its swift waters are used to carry timber. River Ravi is fordable eight months of the year. Within a few metres from Chamba the river meets river Tavi. The two together pass through Gurdaspur and Amritsar districts of Punjab and finally merge into the waters of river Chenab and Jhelum.
Vashishta did not come to harm. In fact his reputation grew. Vishwamitra decided to visit the great sage in his hermitage. When he did, he found that the sage Vashishta had a cow named "Kamadenu". It laid a feast at command. When sage Vishwamitra saw this feat, he wanted the cow. Vashishta refused to give him the cow. Vishwamitra made many excuses. "Please, " he said, "You better," he threatened. "For God's sake," he implored. But Vashishta was unmoved. He said he would not be able to part with the cow.
Sage Vishwamitra on contemplation found he was left with no other way but to steal the cow, which he did. But the sage of such wisdom should have known that if a cow could lay a feast at command, it must be a thinking cow, unlike the magic objects that jack of beanstalk fame found. But blinded by desire, as Vishwamitra was, he did not think and just stole the cow. Having tied it to his hermitage, he relaxed to mull over his success. Instead he found a thousand warriors marching towards him!
Up he got and away he went to investigate. He found Kamadenu had begotten so many warriors to fight this impulsive sage and get back to her old master. Indeed Vishwamitra was defeated and Kamadenu went back to Vashishta.